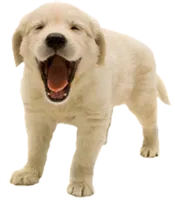 Their smile is precious...
Periodontal disease is the number one disease in cats and dogs in america.
Periodontal disease is infection and inflammation of the periodontium (the tissues that surround and support the teeth) due to plaque bacteria and the host's response to the bacterial insult. Gingivitis is common in dogs and cats and refers to inflammation of the gingiva in response to plaque antigen.

Like us humans it is important for our pets to receive regular dental care and checkups. You wouldn't neglect your dental routine and checkups, so why would you let your pet go without this important service either? Just like in humans, plaque can build up along your pet's teeth, which increases their risk for periodontal disease and other issues like cavities and even tooth loss.
Regular dental checkups ensures your pet's teeth stay clean and healthy, and prevents these challenging health issues from becoming a serious problem in the future. We offer a range of pet dental services at our Clinic that are designed to keep your pet's mouth and teeth healthy and clean. These include:
Routine examinations: It's important that your pet get their mouth and teeth examined when they get a regular body checkup. We provide routine checkups and preventative care for your pet's teeth that will reduce their chances of having dental problems in the future.
Dental cleaning: We also offer dental cleanings for your pet to remove plaque and bacteria from their mouth.
Dental radiography: On the basis of your pet's dental health, radiography services are recommended. A radiograph can get a complete overview of your pet's mouth that we can't see with the naked eye.
Dental surgery: If your pet is experiencing dental problems like abnormal tissue or lesions in the mouth or diseased or impacted teeth, we can perform surgery to correct the condition.
Don't hesitate to schedule your pet a dental checkup today its never too late.
Frequently asked Questions
How often should I brush my pet's teeth?
In order to prevent any serious dental disease, it is recommended to brush your pet's teeth at home 2 times a day and take your pet for a regular dental cleaning twice a year. If you've never brushed your pet's teeth you should visit your vet and get them cleaned and identify is there is any problem.
Is it normal for my pet to have bad breath?
Like us, pets can also suffer from a bad breath problem. This may be caused by bad dental or oral health. Visit your vet because this can be a sign of cavity or a dental infection.

Should we brush out pets teeth twice a day like humans do?
Yes, Similar to us pets' teeth also have a plaque build up, in order to prevent your pets from cavity, tooth decay or oral issues make sure to brush your pets gently twice a day with a toothbrush suitable for pets. Please do not use normal brush meant for human. Brushing twice a day can prevent plaque and tartar build up which will then reduce the advancement of dental disease and alveolar bone loss, infection, odor inflammation ,pain, tooth abscess, gum erosion and tooth loss
What are the benefits of brushing in pets?
Brushing twice a day removes dental plaque which is a sticky, clear film that forms on teeth both above and below the gum line. Plaque contains saliva, bacteria and food particles. Plaque should be removed twice a day before it hardens into tartar. Plaque causes dental problems particularly bad breath, tartar and disease of the gums and roots of the teeth, as in periodontal disease. This disease called periodontal disease is the most common disease in cats and dogs and is the reason dogs ad cats have bad breath but more importantly this disease causes a lot of pain for pets. Brushing twice a day in pets with a pet specific toothpaste ( no fluoride for pets) and a soft toothbrush is essential. Brushing twice a day will be the most important factor in keeping your pets mouth healthy, smelling decent and disease free,
What is the reason you cannot use fluoride toothpaste in pets?
Like us pets cannot spit the toothpaste after brushing and they end up swallowing the toothpaste. Toothpaste meant for us have fluoride in it and it can causes fluoride toxicosis in pets. Always use pet specific toothpaste to prevent them from fluoride and you can also take suggestion from your vet regarding which toothpaste is best suited for your pet. We offer C,E,T enzymatic tooth paste, C.E.T oral hygiene rinse.
How many times a year should my pet see a veterinarian?
Twice a year as well as any time you have concerns.
My dog/cat has yellow teeth and black spots on teeth, is it normal?
No, its not normal for your pets to have yellow teeth or black spots on the teeth, this can be a clear indication that your pet needs a dental check up and can be suffering from oral or dental issues.