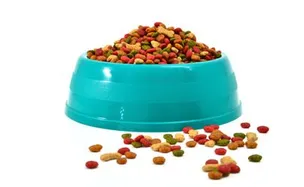 Know what is right for your pet.
Nutrition is a major factor of your pet's health. Your pet's weight, skin, fur and energy is determined by the diet of your pet. Pet owners sometime overfeed or underfeed their pets due to various reasons but this simple diet issue can be the reason of many major health issues in future.
Weight Management
Regular weight checks are recommended. Animals typically become obese due to overfeeding, lack of sufficient exercise, or congenital conditions. Being overweight can predispose animals to joint issues, diabetes, heart disease, digestive problems, liver disorders, cancer, and other medical conditions. In addition, it can lower an animal's longevity and quality of life. Pets can also become underweight due to animal anorexia, certain disorders, or psychological conditions.

If your animal is underweight or overweight, we will most likely recommend a customized weight management treatment plan, which could include:
Dietary changes. The most significant factor in your pet's weight is most likely it's diet. Adjusting the amount of fat, protein, and fiber in your pet's food can help it gain or lose weight.
Different feeding practices. The way you feed your animal may also affect its weight. It's important to create a standard feeding schedule so your pet does not eat too little or too much.
Increase or decrease in exercise or activity. Some animals may be underweight due to excessive activity and should spend more time resting. Overweight or obese pets will need to be played with, walked, and exercised more rigorously and frequently. Overweight pets tends to get lazy and find it hard to even walk some times, regular walking and running helps them to be fir and in shape.
Medications. We may prescribe some drugs that stimulate or suppress an animal's appetite to assist with weight management. Some vitamins and supplements may also achieve these effects.

Vitamins and Supplements
Just like humans, pets can sometimes benefit from taking vitamins and supplements, nutrients and organic compounds that can help support bodily function. We most often recommend them for aging pets or those with long-term chronic conditions, but any pet can take these oral, topical, or injected substances. More and more owners are working to improve their pets' quality of life and overall well being with vitamins and supplements. Animal caretakers most frequently utilize the following:
Multivitamins. These can help balance an animal's diet and nutrition.

Probiotics. These help with digestive function.

Supplements for arthritis. Glucosamine, calcium, green tea, and vitamin E can help your animal's joints function better.

Antioxidants. These can help fight symptoms of aging and reduce animals' risk for cancer.

Omega-3 fatty acids. These healthy oils can make animals' fur shiny and healthy, as well as limiting shedding.
FAQ
Is it safe for my pet to lose weight fast?
No, fast weight loss in pets can lead to a specific kind of liver failure. In fact fast loss of weight in any pet can be dangerous to their overall health. Visit a vet in case you notice any symptoms of weight loss in you pet.
Should I maintain a strict diet for my pet?
It is recommended to have a diet plan for your pet because both overeating and under eating are dangerous, keep an eye on your pets eating habits and visit a veterinarian if you have any concerns.
How often should I give treats to my pet?
Treats are the favorite and fun food for your pet, but it also has a lot of calories which can cause obesity in your pet. Have a daily limit on your pets intake of treat and if your pet is overweight make sure you visit your vet and restrict the treat for your pet.