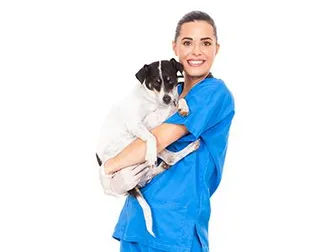 Surgical Services
Veterinary surgical services run the gamut from very minor and relatively quick procedures such as the repair of a fractured toenail, or cleaning and repairing a small laceration up to massively complex surgical cases such as correction of heart defects, orthopedic intervention in developmental skeletal deformities and many procedures residing in the middle that depending upon the case can be more or less complex and have varied outcomes.
Common surgical cases seen at the general practitioner level can include biopsies and mass removals, dental extractions, oral tumor biopsies and removals, ocular surgical procedures such as entropion, ectropion, cherry eye, ocular margin mass removals, enucleations, as well as abdominal procedures such as cystotomies, exploratories, gastrostomies, enterotomies and appendicular skeletal procedures such as digit amputation, limb amputation, and biopsies.
Surgical procedures that are beyond the scope of the practice will be referred to the appropriate surgeon for evaluation and completion and often include some of the aforementioned as well as cranial cruciate repair, meniscal tears, extensive tumor removal with margin identification, external coaptation and internal repair of fractures, lung lobectomies, brachycephalic syndrome repairs, mandibulectomy and hemi- mandibulectomy, IVDD compression reduction and pelvic fracture repair, total hip replacement and femoral head and neck osteotomies.
While this is not an exhaustive list of surgical procedures often encountered in veterinary medicine it does outline the more common occurrence in today veterinary practices.