Click here for our clients stories and testimonials on why they are so happy with Trupanion Insurance

TRUPANION'S FLORIDA PLAN FOR HAPPY, HEALTHY PETS
Trupanion is proud to debut our new plan in the Sunshine State. Florida residents will have the first chance to experience our new product that includes more benefits, more transparency, and more financial flexibility. Because your pet deserves nothing less than the best.
See below for more information on this latest and greatest plan, or give us a call 24/7 if you'd like to talk to our policy experts or get a quote for your pet: 866.615.0126.
Giving you flexibility and control
We've gotten rid of deductibles so we can truly be there for things both big and small. When you sign up, you can choose the percentage of the covered costs you'd like us to pay. Anywhere between 50% and 100%. Whatever works best for your budget and lifestyle. We'll even chip in for taxes.
Coverage transparency from the start
Nobody likes surprises when it comes to medical insurance. We get it. That's why we provide a Coverage Summary, so you know what to expect with your pet's coverage from Trupanion.
Protection from the unexpected
Simply put, all pets protected by The Trupanion Plan receive the same coverage for all new illnesses and injuries. There are no gold, silver, or bronze plans to consider. Only one plan that has what it takes to cover your pet when they need it most.
Take control over your monthly costs
We offer the most flexible payout available, so that you're in control of your monthly costs. When you sign up, you can pick the payout percentage that works best for your budget and lifestyle—anywhere from 50% to 100% for all eligible costs.
During your first 30 days, you'll have unlimited opportunities to increase or decrease the percentage we pay. After that, you may only decrease the payout percentage. Changes take effect the following month.
Your furry Floridian families get even more benefits from this new plan
Trupanion is at the forefront of the pet medical insurance industry—innovating and evolving to give you and your pet a revolutionary new plan.
In addition for coverage from the unexpected, you have no annual or lifetime payout limits or deductibles. And just for Florida residents, our core plan includes treatments like hydrotherapy, rehabilitative therapy, and chiropractic care.
WHAT'S COVERED
| | | |
| --- | --- | --- |
| Diagnostic tests | Orthotic and mobility devices | Rehabilitation |
| Medications | Supplements | Taxes |
| Surgeries | Advanced dentistry | And so much more |
All dogs and cats from birth to 14 years of age, regardless of breed, can sign up for lifelong coverage.
Coverage begins after a single, simplified 12-day waiting period. This can be waived with an Exam Day Offer for immediate coverage.
The only company that gives members the freedom to pick their payout percentage and can pay hospitals directly at checkout with no payout limits.
Visit any veterinary, emergency care, or specialty hospital in the US, Canada, Puerto Rico, and Australia, including US and Canadian military installations.
---
---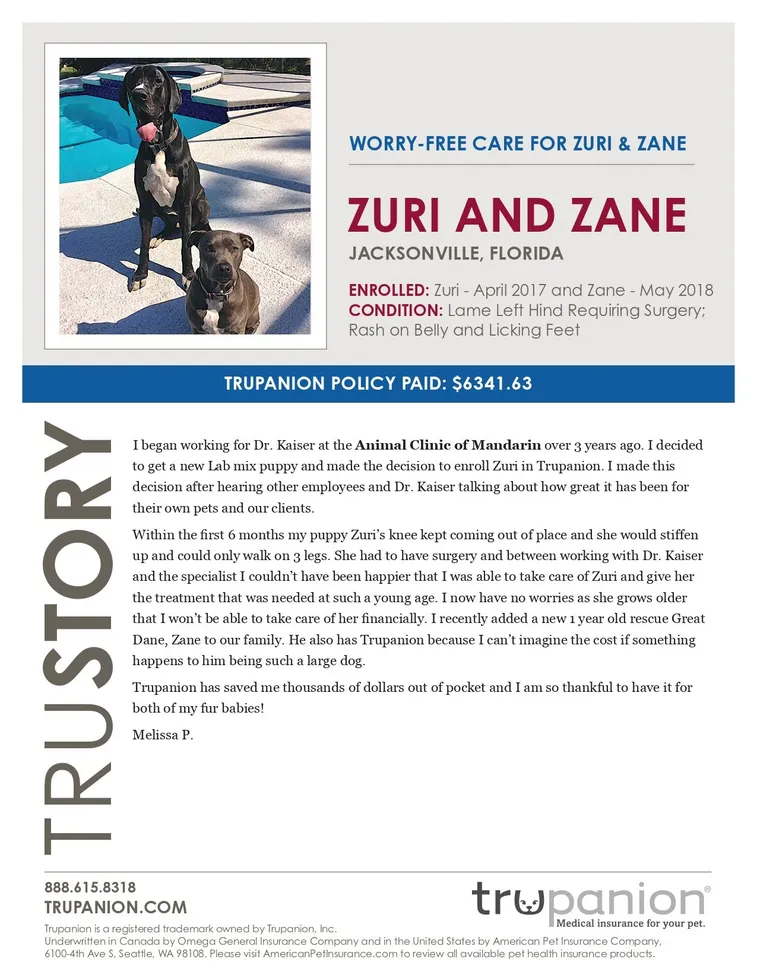 ---
---

---
---
---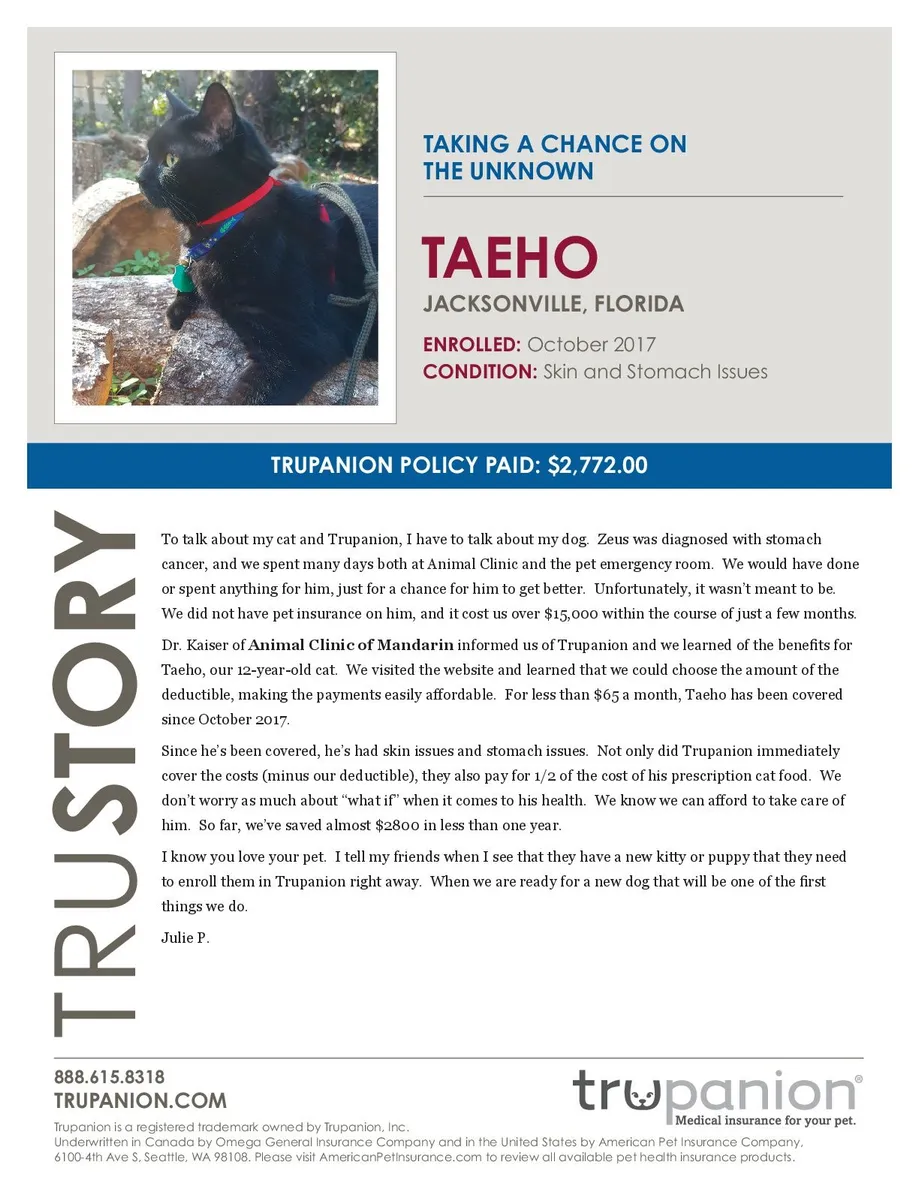 ---
---
---
---
---
bailey-bob-animal-clinic-of-mandarin-testimonial.pdf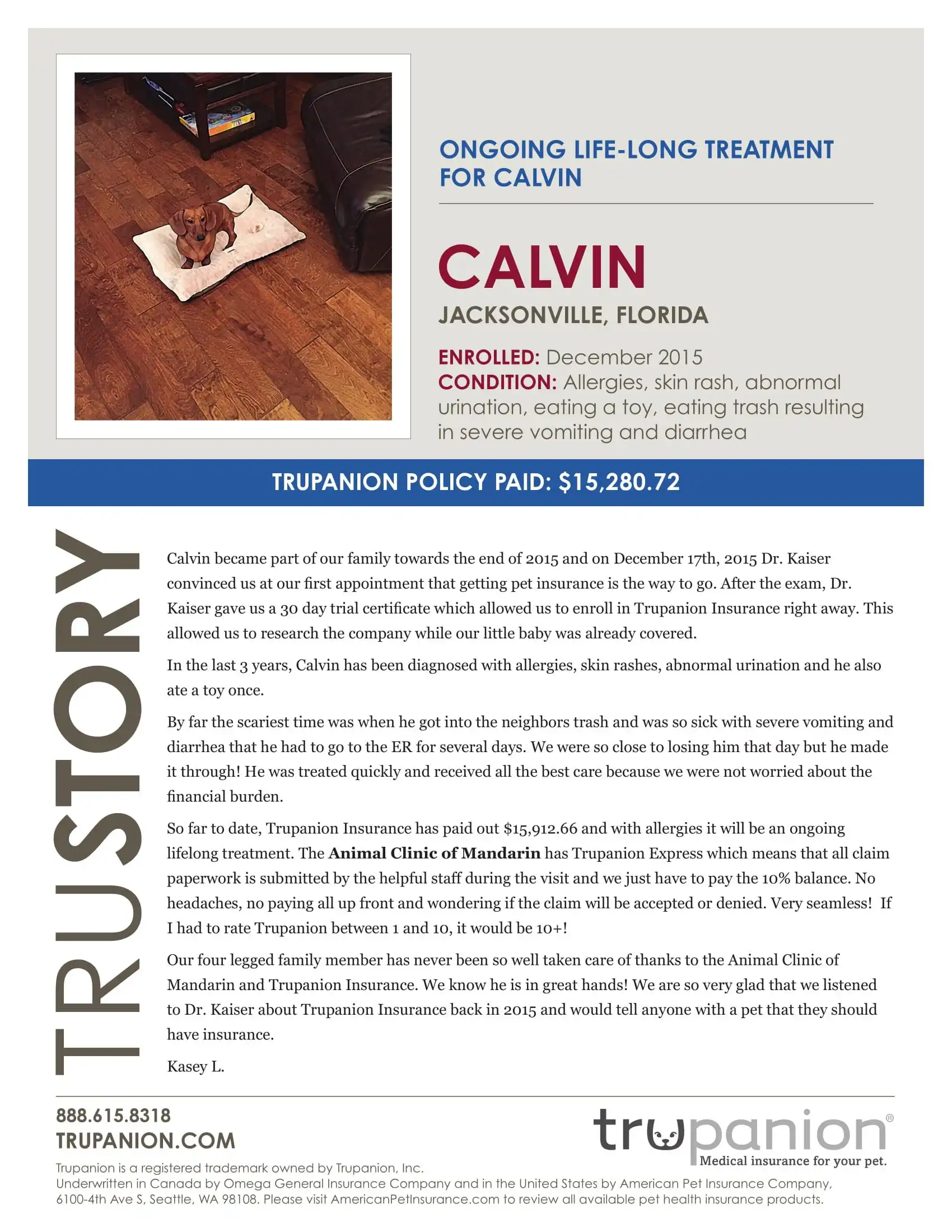 ---
Condition: Dislocating kneecaps
Trupanion Paid: $2,499.84
Please Contact The Animal Clinic of Mandarin at 904-262-2953 for more information!!